Ambulance
Ambulance services are provided to transfer individuals who are seriously ill. We have the ability to transport unwell patients to our centre, including those who require ventilator support, pacing, or are suffering from other serious medical conditions.
Sir Ganga Ram City Hospital has a devoted team of specialists that provide ambulance service 24 hours a day, 7 days a week through a state-of-the-art Critical Care Unit.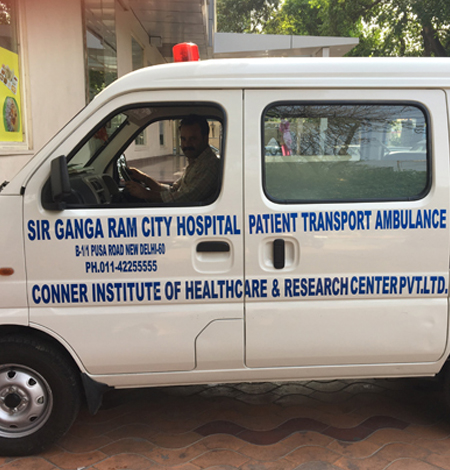 Why choose Sir Ganga Ram City Hospital?
Sir Ganga Ram City Hospital is one of the trusted hospitals in Delhi as well as in India. There are several grounds that make us the top-most hospital of choice of patients and their family members
Proven Clinical Excellence - We unceasingly outdo the industry benchmarks in medical outcomes
High-tech healthcare facilities through cutting edge technology - access to the newest drugs, getting the finest treatment technology as well as the latest digital technology available to support clinical and patient administration structures
Highly experienced and competent doctors, medical professionals and staffs
Personalised care - Our hospital's philosophy revolves around providing personalised care for the most comfortable healthcare experience possible.
Quality & cost-efficient Healthcare - Our commitment to patients of outstanding clinical care and friendly atmosphere that is cost efficient too
Central location and easy accessibility